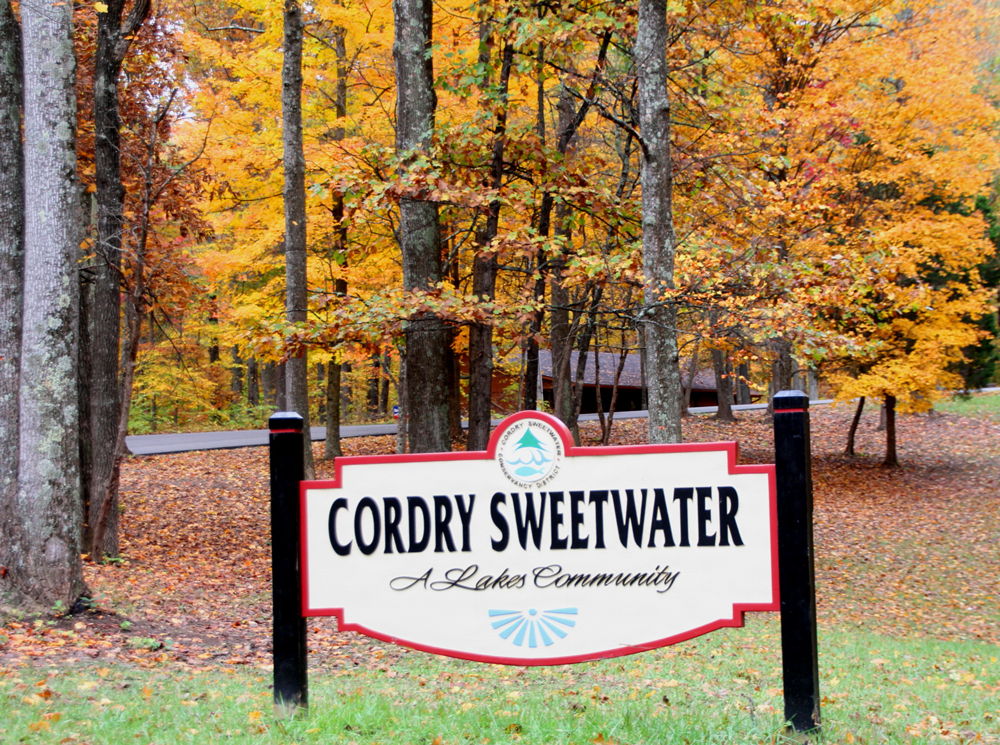 CORDRY AND SWEETWATER LAKES
Centrally located in the northeast corner of beautiful Brown County, Indiana, we have easy access to Indianapolis and other metropolitan areas. We are:
approximately 12 miles northeast of Nashville.
approximately 20 miles from Franklin.
20 miles from Columbus.
The lakes are manmade with 125-foot dams and 110 feet of water at the dam. Sweetwater Lake is 3.5 miles long and 379 acres while Cordry is 2.5 miles long and 259 acres.
THE CONSERVANCY DISTRICT
Property owners can use both lakes regardless of their property location. The area is governed by a seven-person board elected by the property owners at an annual election. The board is staggered so it is never a completely new board.
Rules and regulations following deed restrictions and covenants are on file for lot owners' information. These also follow the restrictions set forth by the zoning board of Brown County.
Septic systems are required and are designed and installed under the jurisdiction of the Conservancy District and the Brown County Board of Health. The Conservancy District owns and operates the water system and maintains the roads within the boundary of the Conservancy District. They collect an assessment of $24 to cover road maintenance. This supplements the taxes collected through Brown County and returned to the District and is determined through a budget submitted to the State each year to determine the rate.
The lakes are private to the property owners with boat ID required and beach passes issued to each property owner. If you enjoy fishing, the Cordry/Sweetwater Anglers Club might appeal to you. Visit their website for more information.
History of Cordry-Sweetwater Lakes
The development of Cordry and Sweetwater Lakes was the brainchild of developer Howard Prince. Mr. Prince developed Prince's Lakes in the late 1940s and early 1950s. He then focused on the development of two larger lakes in northern Brown County. Mr. Prince began buying up land in Brown County. One 60 acre parcel in what is now the northern part of Sweetwater was purchased from the Brand family for $3,600 ($60 per acre!). Work on Cordry Dam was begun in 1952 and lot sales took off. An original brochure advertises lot prices at $12 per lakefront foot and contracts with monthly payments were available. Mr. Prince's original operation was in a building located at the entrance of Prince's Lakes. That building now houses a liquor store, barbershop and real estate office. Howard Prince's business concerns at Cordry and Sweetwater Lakes entered into receivership in mid-1958. Mr. Prince died in 1962. Prince's Lakes became an incorporated town in 1956.
In 1962, a Conservancy was formed with the primary objective being the completion of Cordry and Sweetwater Dams. Lot sales continued on both Cordry and Sweetwater Lakes. Sweetwater Dam was begun in 1963. Sweetwater Dam was completed and the lake filled to its current pool level in 1967. Cordry Dam was completed in 1968 and it filled to its current pool level in the same year.
It is interesting to note that at different stages of development the two lakes were to be connected. At one time a canal was in the plans to be located just north of Muskrat Drive on Sweetwater across to Cordry Lake. At another time, a third lake located in what is now the nature trail area would join the two lakes. As time went on the costs for either of these projects escalated and it was not feasible to complete.
William E. Bodenhamer took over the operation of Sweetwater Lake Inc. in 1963. Manager Charlie Hendricks was responsible for platting the offshore lots.
Dave Jarret, a broker for Sweetwater Realty, has been a pillar in the community for several decades. He has acted as a de facto curator of history in the community and has even written books about our special place we call home.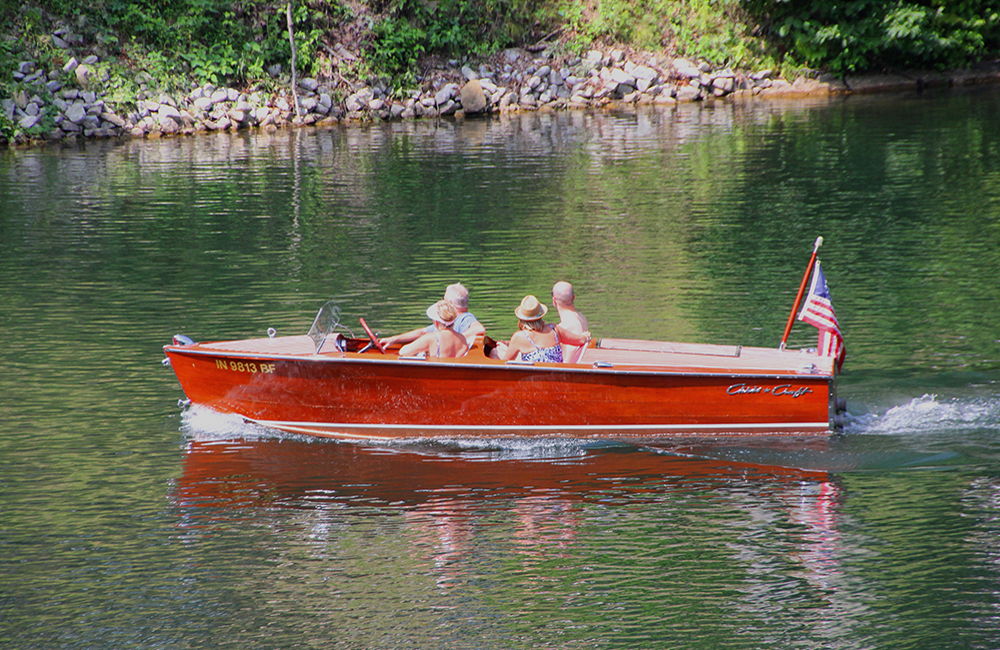 USE OF THE LAKES
All Indiana Title 14 Boating Laws and Indiana Fishing Regulations are hereby adopted by the Cordry Sweetwater Conservancy District, unless a more stringent regulation is in effect through the final plan or resolutions to the rules and regulations of the District. All shall be enforced, including the following exceptions and/or additions.
A freeholder may register only one (1) watercraft from each classification with the exception of classification No.5 (up to 3), but may have no more than four (4) watercraft per freehold. A freehold is:
one (1) or more persons holding identical title to one (1) or more tracts of land.
one (1) or more adjacent tracts of land owned by one (1) person or in identical title.
WATERCRAFT CLASSIFICATION CODE
Boat Decal and Beach Pass Season starts June 15, 2020 and EXPIRES June 15, 2022. All motorized watercraft decals this season are mint green and all non-motorized watercraft decals are grey. Both can be picked up at the CSCD Office.
WATERCRAFT TYPE LENGTH/HORSEPOWER REGISTRATION
Power/Speed Boat
No longer than 19 feet, 11 1/2 inches (measured length with a tolerance of 1 inch) and over 30 horsepower. Boats with a ballast/wave enhancing capabilities must have them disengaged and sign a Ballast/Wave Enhancing Speedboat Certificate when registering $80
Pontoon Boat
No longer than 28 feet and not to exceed 100 horsepower - $80
Fishing Boat
No longer than 19 feet. and not to exceed 30 horsepower - $40
Jet Ski/ Wave Runner
MUST be continuously registered prior to January 1, 1994 - $80
Non-Motorized
Kayaks, Canoes, Rowboats, Paddleboats and Sailboats. No longer than 17 feet - $10
Boat Decals are half price after June 15, 2021.
Per Resolution 2015-10
ALL Class One Power or Speed boats cannot exceed 4,000 pounds dry weight as provided by the boat manufacture.
Watercraft that are equipped with wake enhancing devices must have the equipment permanently disabled.
Per Resolution 2016-3
All gasoline-powered watercraft utilizing Cordry and Sweetwater Lakes be covered by an amount not less than $100,000 liability insurance coverage, insuring against bodily injury or property damage, per person and per occurrence.
Per Resolution 2017-4
Speed boats shall not exceed 19 feet, 11 1/2 inches.
TO OBTAIN A DECAL
Photo ID
The current title, application for title, or certificate of origin in the current lot owner's name for first-time registration.
Insurance Information (Insurance company name, policy number and insurance agent contact information)
Speedboats being registered for the first time in the current Lot Owner's name will need to be measured at the CSCD Office during business hours. Please call the office to verify if the year, make and model of the boat is already in our database for measurement. All motorized watercraft coming into the Lake for the first time will need a current title, application for title, or certificate of origin in the current Lot Owner's name.
ADDITIONAL
A lot owner may only have nine (9) total watercraft motorized and non-motorized per freehold, of which no more than three (3) motorized; limit one per classification: Classification #1 speedboat, #2 pontoon, and #3 fishing boat under 30 horsepower.
All motorized, non-motorized boats and boat trailers listed above need to have lot numbers displayed. Lot numbers must be 3 inches on both sides of the boats next to the boat decals. Lot numbers must be 2 inches on one side of the boat trailers.
View Boating Decals Information
FISHING
Fishing with live minnows of species such as goldfish, carp or other predatory minnows is strictly prohibited.
No live minnows of any species may be released in the lakes.
All fish stocking will be done by the Cordry Sweetwater Conservancy District with Board approval.
Indiana State Conservation Laws pertaining to specie, season, size, bag, limit, etc. shall be strictly adhered to, unless otherwise posted by the Cordry Sweetwater Conservancy District.
SWIMMING RULES
There shall be no swimming, floating on rafts, manufactured water towing tubes, life preservers or other devices in the designated ski area, which is defined by the buoys. The exception being downed skiers and water sled occupants, waiting to be picked up by their watercraft.
Swimmers shall remain within thirty (30) feet of the shoreline, except in prescribed beach area or within fifteen (15) feet of any watercraft moored in an idle or "no wake" zone.
CAMPING PERMITS
Camping shall be permitted on private property only if the freeholder has available State approved sanitary facilities.
Camping permits shall be obtained from the Conservancy office prior to camping. Permits will be issued for weekends or for other short periods of time, not to exceed 72 hours in any seven (7) day period and an annual vacation period not to exceed two (2) weeks providing the freeholder is in the residence for the applicable period of time.
At the end of the permit period, all camping equipment, trailers, campers, tents, ect., and all debris must be removed from the premises. Violation of any camping permit shall be cause for refusal of future permits.
For a complete list of Rules and Regulations please stop by our office or the Conservancy Office during operation hours.
LET'S TALK ABOUT YOUR HOME

fill out our form or give us a call
317.878.4100